In Tamarusan, it is called Kanzashi Barrette, but in Japan it seems that it is more major to call it Majeste. Majeste is katakana, so I thought it was English and googled it, but I couldn't find those things. And when I finally found this item in English, the name "Hair Slider Hairpin" came out. Other than that, there are a few hairpins and hair clips.
The fixed name of this may not be overseas. So, today I would like to introduce 3 types of hair arrangements using these hairpin slides.
I made half-up bun hair using the hairpin part of hair slide.
Next is Hair slide using the resin parts of the "Backyard Series".
In this hairstyle, at first, the hair is tied together with hair elastic and then put it as a hair accessory.
Here, after making a half-up dumpling, the felt parts are fastened like holding the dumpling. Try changing the hole into which the hairpin is inserted depending on the amount of hair.
Tamarusan's hairpin barrette hairpin is a 2-way type that can be used as a hair accessory with just the stick part (hairpin). It goes well with clothes, but it also goes well with kimono hairstyles as an accent.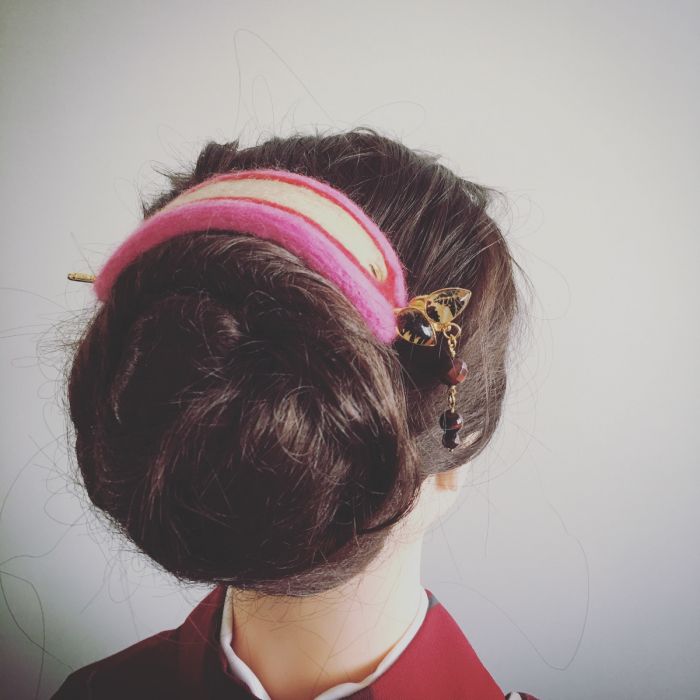 It is also recommended as a rare gift.
Click here for other hair pin barrette.
Click here for Tamarusan's online store.
Related article:3 recommended hairpins with yukata
(tamarusan1go)